It's been barely a week since we arrived from our last surf trip of 2019: our Surf Camp in Morocco. This time, we were way more people than last year. Friends that come to Latas Surf every season to enjoy at our Surf Camp in Somo, decide to join us away from our home and travel with us to the best surf spots of the planet. This time we went hunting for waves in Morocco with a bunch of people with several things in common: surf, travel and good vibes.
The outcome couldnt't be better. A spectacular trip in which we did way more than surfing: we had time for visiting some of the most famous touristic spots of Morocco and also to enjoy the moroccan traditional food. On the other side, the people that came with us, many more than last year's, is a sign that Latas Surf is becoming a Surf Camp reference not only for its main activity in Somo, but also for the organization of surf trips like this one.
This is what happened in our last surf trip of 2019

Our Surf Camp in Morocco: the last trip of 2019
The first thing we did was (wait for it)… surfing! What were you expecting? We took the surfboards and went straight into the fun zone in Anza. This spot was located just in front of our surfhouse. Also, we had time to visit Agadir Souk and going back to the water again.
If you had doubts (as many people ask us regarding our surf trips) about the surf level you need in order to travel with us, this is the answer: none. This trip had people enjoying from 0 but also very experienced surfers (as our instructors Paco, Martí, Anna and Juande)
On another journey of our moroccan adventure, we went on a daytrip to Paradise Valley, and spectacular natural "monument" consisting of a red-stoned canyon carved by a river.The downside of it is that the rains had not come yet and the river wasn't at iits fullets so you we couldn't swim there. A wonderful and mandatory sight nonetheless.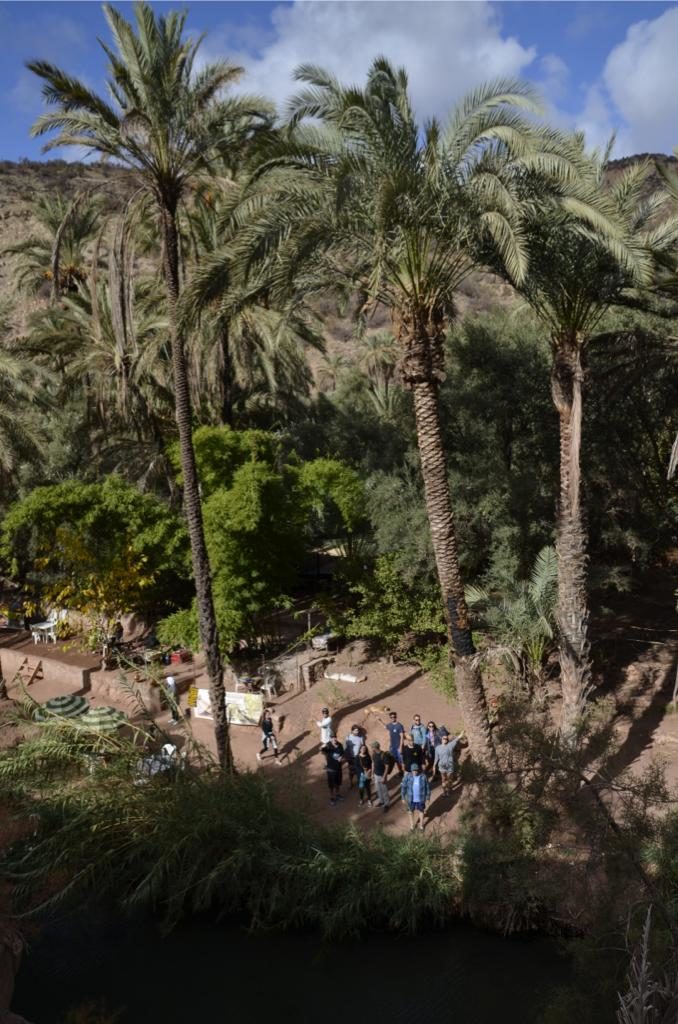 Latas Surf group, "lost" in the inmensity of Paradise Valley
Tamri Dunes were also part of our itinerary. We enjoyed drinking tea, tasting moroccan traditional sweets, practicing sandboard with a finless surfboard and all this, with the magical view of the ocean on the background. The perfect postcard for the memory.
In Taghazout (one of the most famous surf spots out of Europe) we could enjoy a wonderful sunset while enjoying more traditional moroccan dishes at a very (very) cheap price.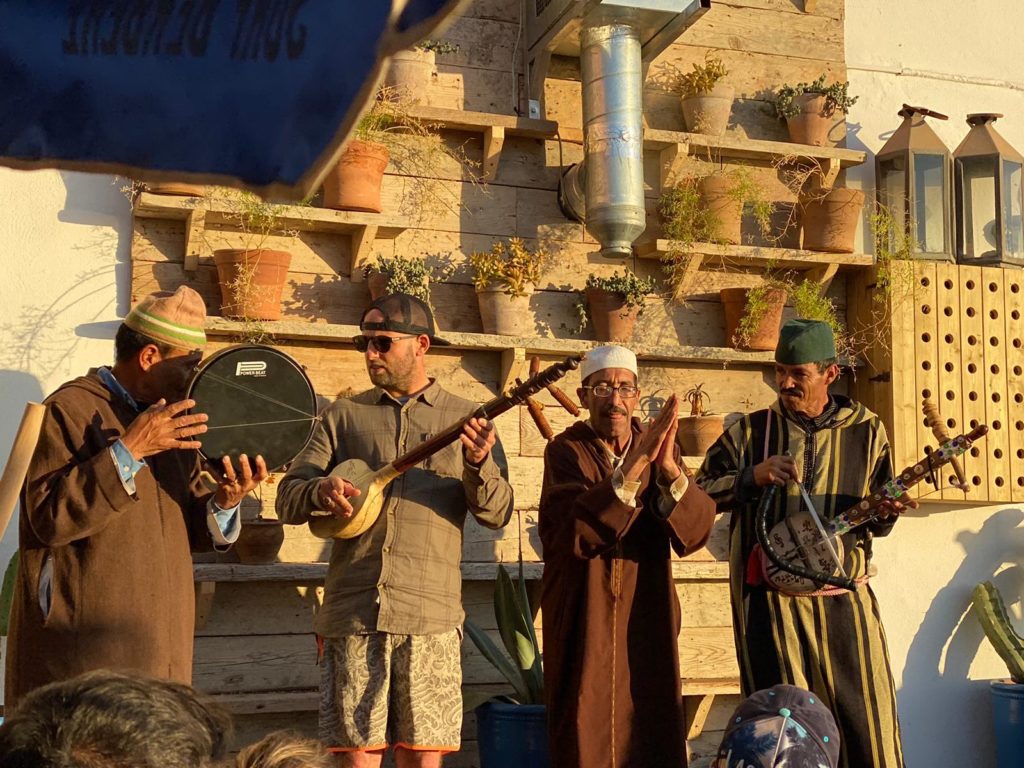 Paco, our head coach, decided to join a local music band
To sum up, this one has been one trip to remember and we hope to do it again next year and have more and more people joining us for the 2020 season.
Surf Camp Sri Lanka: information and bookings
For those who couldn't come to Morocco with us, we're already planning a Surf Camp in another paradise destination for 2020: Sri Lanka. Surf, yoga, sun and friends in one of the most wonderful places to learn or improve your surfing. We tell you everything about it in this link. Fancy joining us for this one? 🙂